American Mine Door Working with Kibali Gold Mine in the DRC
"The Kibali gold mine opened in the Democratic Republic of Congo (DRC) in May of 2014 representing an investment of more than $2.5 billion by Randgold Resources and AngloGold Ashanti. Kibali will rank as one of the largest gold mines in Africa when in full production, expecting to produce an average of 600,000 ounces of gold per annum over the first twelve years of its life."
Julienne Bay | May 2, 2014
The Kibali mine has since commenced production by trucking ore to the surface and is in the process of commissioning a major underground crushing and shaft hoisting system. After an assessment of the ventilation controls, their consulting and engineering team approached American Mine Door to submit a proposal on a variety of horizontal louver type mine door designs, vehicle doors, airlocks, regulators, and other mine doors equipped with pedestrian man doors.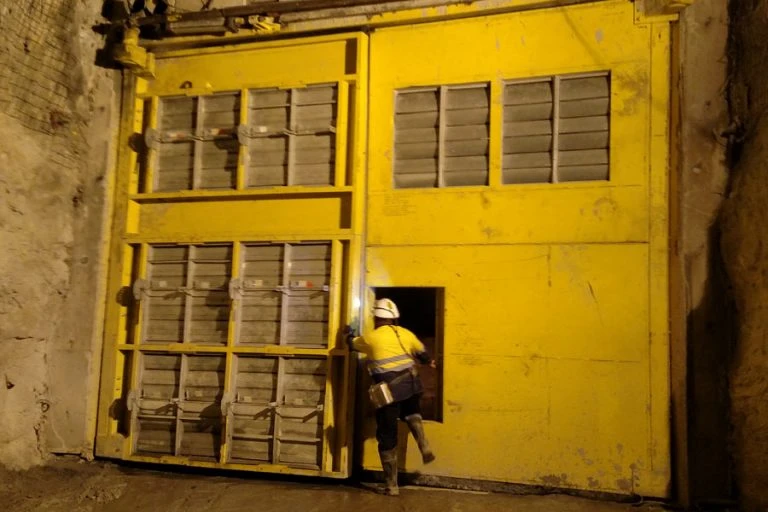 Important Mine Door Buying Criteria Included:
Design
Price and overall value
Ease of adjustment or operation in dusty environment
Cost and delivery time to site
Cost of spare and replacement parts
Ease of installation, maintenance, and repair
Reliability in service conditions
Teamwork in Design
After AMD won the bid, our engineering team worked closely with the Kibali team to refine the design of the ventilation mine doors to incorporate unique damper-style louver doors to allow for greater control of ventilation throughout the mine. This resulted in American Mine Door fabricating opposing blade
dampers built into the mine door for easy air regulation and 100% control of air flow.
Meeting the Challenge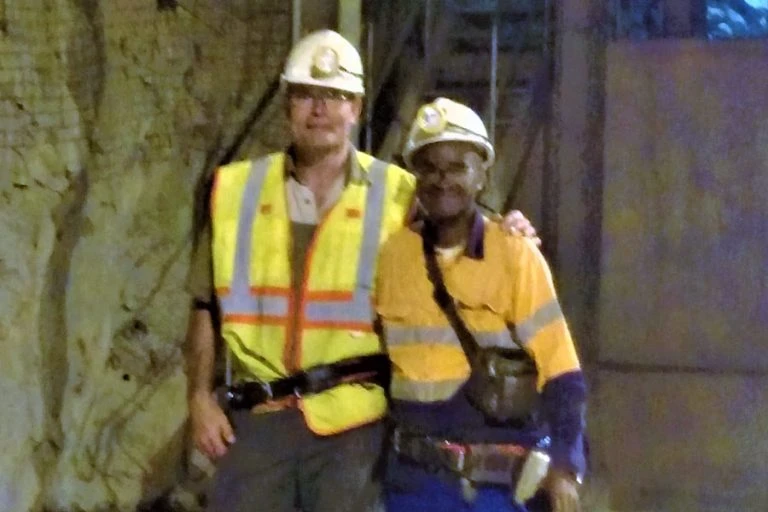 Bob Chorman, head of the AMD engineering team for the project, said it was a challenge in designing the best possible solution. Bob says, "Working with the Kibali team, we collectively revised and improved the design several times before sending it to production. It was time well spent to ensure that we had the best economical solution which also met all the needs of the mine." The entire process has truly been a collective team effort. From beginning to end – design, fabrication, logistics, and shipping have all been a collaborative process.
Looking Ahead: Automating for Ventilation-On-Demand (VOD)
With this new louver / damper design, American Mine Door can easily set up for automation with a regulator and controls for above-ground actuation. This allows for true Ventilation on Demand (VOD), and gives mines the potential to save hundreds of thousands of dollars in energy costs. This unit truly can pay for itself over time.
For more information on built-in louver/damper/regulator style doors, automation, and ventilation on demand (VOD), contact Bob Chorman of American Mine Door directly by sending an email to at bob@minedoor.com
Tell Us About Your Upcoming Ventilation Mine Door Projects!
Tell us more about your upcoming mine door project. American Mine Door will work along with your ventilation engineering team to build the perfect mine door solution.
Whether it's a simple budgetary quote, a small manually operated mine door, or a complete complex automation system – we are here to help.
Contact Us today to learn what American Mine Door can do for you!
Request a Quote or Contact Us Today for more Information
See why the world is turning to AMD for the best in underground mine equipment, including Mine Doors, Cable Vulcanizers, and Track Cleaners?
Call us at 216-432-3240 or visit our Contact Us page to discuss your needs with an American Mine Door representative.