AMD's Quality and Capabilities Drive International Sales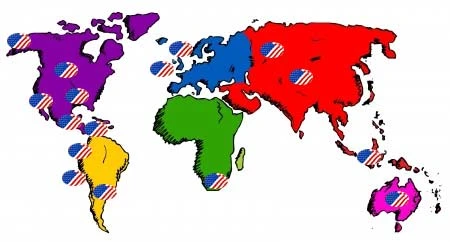 Since 1906 American Mine Door has been providing high quality mining solutions to customers around the world, and today we continue to lead the way, providing custom high-pressure underground mine doors for the global mining industry. We also provide cable vulcanizers, track cleaners, and additional mining products.
Where on Earth can you find high-pressure mine doors from AMD?
Argentina, Australia, Canada, Chile, Honduras. Indonesia, Ireland, Guatemala, Mexico, Mongolia, Peru, Russia, South Africa, United Kingdom, and in the USA, all the lower 48 and Alaska. And the list continues to grow!
Today, sales are driven by the quality of our mine doors, the reliability of our delivery, and our value added approach to product development and customer service.
It is our goal to continue our international growth in the worldwide market.
Introducing New Products and Services
At American Mine Door, our research and development team is dedicated to advancing mine door safety features and customizing controllers for unique installations.
AMD's latest Door Collision Avoidance System provides warning lights and audible alarms to assist your drivers in getting through high pressure doors safely. By reducing repairs, delays, and downtime, AMD's collision avoidance system pays for itself.
Customized PLC Automation Controls
American Mine Door has the ability to design controls to operate your mine door package. After initial review of your specific needs, we will offer the customer a written description of exactly how the control system we design will operate.
At that time, the customer will review the system operation overview and make any final alterations that they want included. American Mine Door Co. will build the controls in-house, complete a thorough testing of the system, and then complete wiring schematics and installation instructions for the customer.
AMD Co. has the unique capabilities to work with our customers in the design and manufacturing of custom machinery and equipment. Since AMD Co. has the capabilities to engineer and design, produce custom fixturing, fabricating, stress relieve, machining, assembly, electrical controls, hydraulics, pneumatics, assembly and painting – we can be a single source supplier for simple to the most complex projects.
Contact American Mine Door today!
AMD firmly believes in establishing a true partnership with its customers. We always strive for an open and honest business relationship so that we can provide the best service possible.
At AMD, we welcome inquiries from distributors and qualified entities interested in handling our product line around the world.
It is our goal to continue our international growth in the worldwide market.
Much of our business is from relationships we have forged over the past 50 years. We earn our business by solving customers problems by asking the right questions, and determining their exact needs so we create a partnership of success.
Tell Us About Your Upcoming Ventilation Mine Door Projects!
Tell us more about your upcoming mine door project. American Mine Door will work along with your ventilation engineering team to build the perfect mine door solution.
Whether it's a simple budgetary quote, a small manually operated mine door, or a complete complex automation system – we are here to help.
Contact Us today to learn what American Mine Door can do for you!
Request a Quote or Contact Us Today for more Information
See why the world is turning to AMD for the best in underground mine equipment, including Mine Doors, Cable Vulcanizers, and Track Cleaners?
Call us at 216-432-3240 or visit our Contact Us page to discuss your needs with an American Mine Door representative.